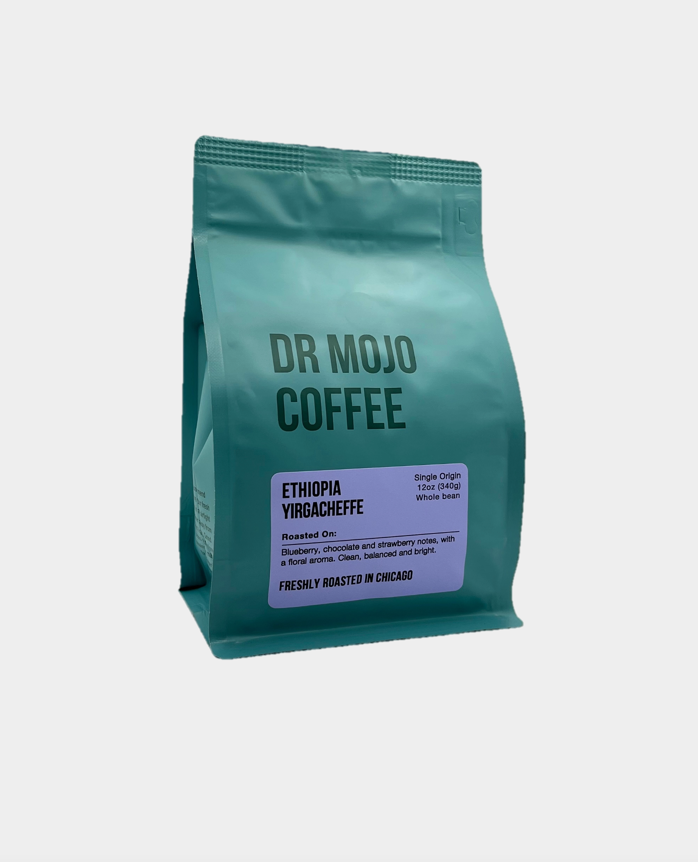 Ethiopia — Superfino Yirgacheffe
Ethiopia — Superfino Yirgacheffe
Mojo Coffee Chicago brings you its Superfino Collection.  A single origin coffee from Yirgacheffe, Ethiopia, with notes of Blueberry, chocolate and strawberry, a floral aroma and clean, consistent, balanced, bright lemony sweetness.
The washed coffees of Yirgacheffe have long been prized for their delicate, tea-like aromatics and clean citrus flavor.  Grown at an altitude of 1750-1950 metres, Yirgacheffe is a naturally processed heirloom arabica variety.  Recently, producers in the Gedio region have been reinventing the natural process originally developed in Ethiopia to offer a completely different profile from this well-known origin. The Misty Valley is a prime example of the fruitiness, complexity, and character of these Natural Yirgacheffe coffees.  In the cup, the Misty Valley truly delivers. A perfumed floral aroma leads into a crisp and complex fruit basket flavor. Milky body provides the backbone for the fruit and aromatics, creating a harmonious balance. The cup finishes with lingering, pleasant mouthfeel.
Light Roast / Medium Body.
Our coffee is freshly roasted in Chicago. Every cup is a drink imbued with inspiration, freedom, celebration, culture and dreams. It's about the experience as much as a refreshment. We hope you enjoy it.