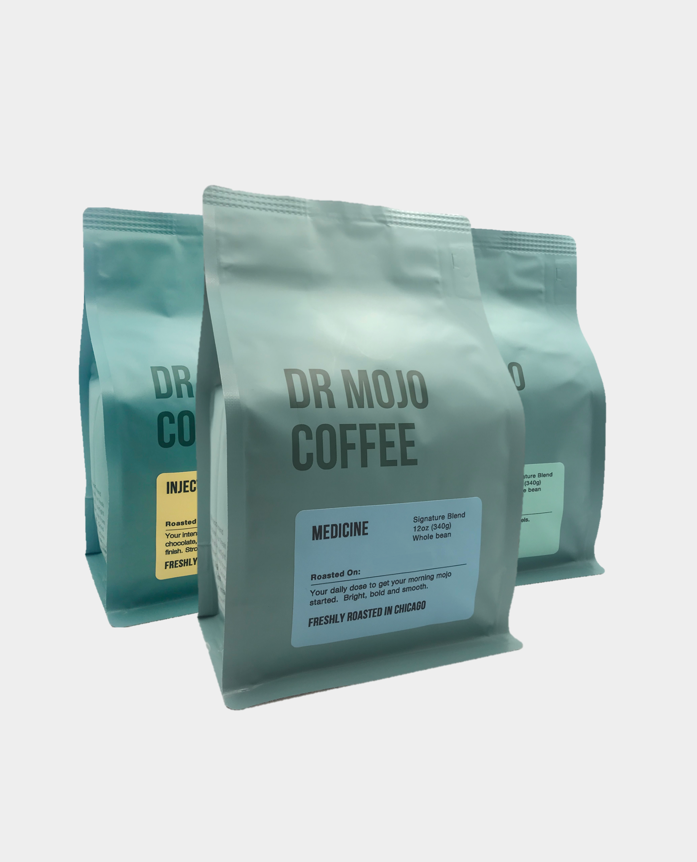 Coffee Subscription - Assorted Blends
Coffee Subscription - Assorted Blends
Never run out of fresh coffee again! Every other week you'll get freshly roasted coffee delivered straight to your door (or office). Select the amount of coffee.
- Shipping is included - 
24 ozTwo 12 oz bags sent every two weeks. (About a two-week supply of beans for 2-4 coffee drinkers). 
5 lbOne 5 lb bag sent every two weeks. (Perfect for a small office of 10 coffee drinkers). 
You'll get a rotating selection of our 3 signature blends:
Dr Mojo's Medicine
Notes of toffee and raisin combined with a creamy body, and a spice and cocoa finish.
Dr Mojo's Injection
Notes of dark chocolate, cloves and nutmeg with a big body and dark cocoa finish
Dr Mojo's Feelgood
Notes of grapefruit and almonds with a creamy body and butterscotch biscuit finish.
Like one blend more than another? No problem! Just email us at chicago@mojo.coffee and let us know your preference and we will send you that.  You can change you mind any time!